Hey Everyone! Welcome back to
SEPIA SCENES.
I'm finding so many have their Sepia Scenes post up already so I'm posting mine now (1:11 PM EST on Wednesday) also.
Today I offer you a
Tudor house
in
HALF SEPIA.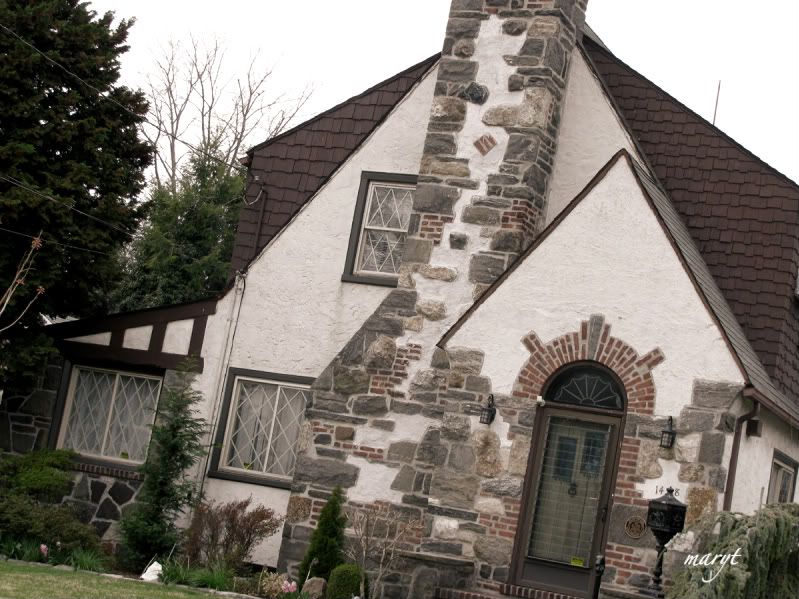 This lovely house won the
Queensmark
, an award given by the Queens Historical Society. The
award
was created to honor those structures and sites in Queens communities that deserve special recognition because of outstanding architectural, cultural, or historical significance.
If you look very closely you can see the
Queensmark
to the right of the door as you look at the photo.
The name
Tudor
suggests that these houses were built in the 1500s, during the Tudor Dynasty in England. But of course,
Tudor houses
in the United States are modern-day re-inventions and are more accurately called Tudor
Revival
or
Medieval Revival
. Some Tudor Revival houses mimic humble Medieval cottages - They may even include a false thatched roof. Other Tudor Revival homes suggest Medieval palaces. They may have overlapping gables,
parapets
, and beautifully patterned brick or stonework. These historic details combine with Victorian or Craftsman flourishes.
I hope you'll sign Mr. Linky and leave a comment. Don't forget to visit your fellow participants in
Sepia Scenes.
maryt/theteach