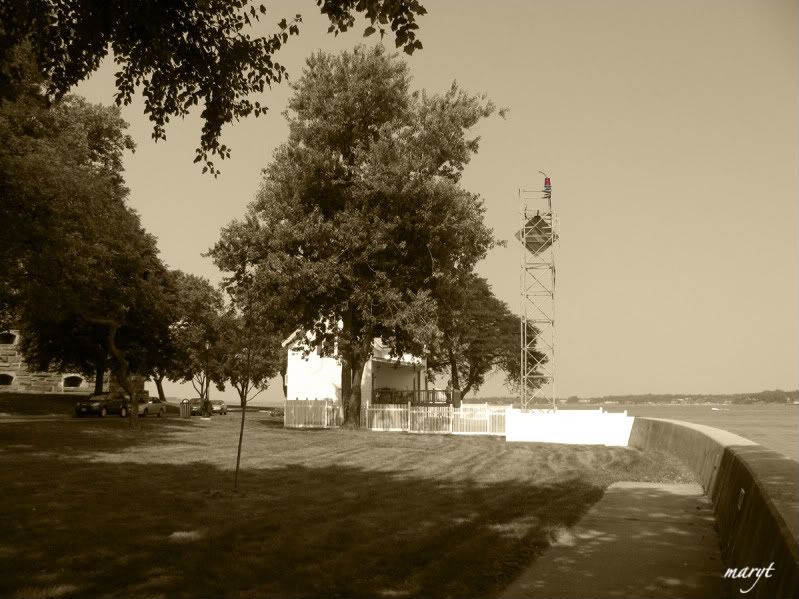 The photo above is of the

Throgs Neck Light

at Ft. Schuyler in the Bronx.

The skelatal tower to the right was built in 1986 which displays a fixed red light (Notice I colored in the red light).

For some very interesting information about the

history

of the Throgs Neck Lighthouse go here

~~~~~~~~~~~~~~~~~~~~~~~~~~~~~~~~~~~~~~~~~~~~~~~~~~~~~~~~~~~~~~

The need for a lighthouse at this point to mark the entrance to the East River was recognized. The land for the lighthouse was obtained by the State of New York in 1823, possibly through a condemnation procedure, and construction of the lighthouse commenced in 1826 under the direction of Timothy, Ezra, and Elisha Daboll. The remaining peninsula was purchased during the construction period with the plan to build a defensive fort at the strategic location.
The first lighthouse was completed in 1827, but less than a decade later, it and the original keeper's dwelling were torn down during the construction of Fort Schuyler in 1835. Some stones from the buildings were used in the fort
This was the lighthouse in the 1890s. (from same perspective as my present photo)
Don't forget to

sign Mr. Linky and leave a comment

, my friends!
And of course visit your fellow participants.