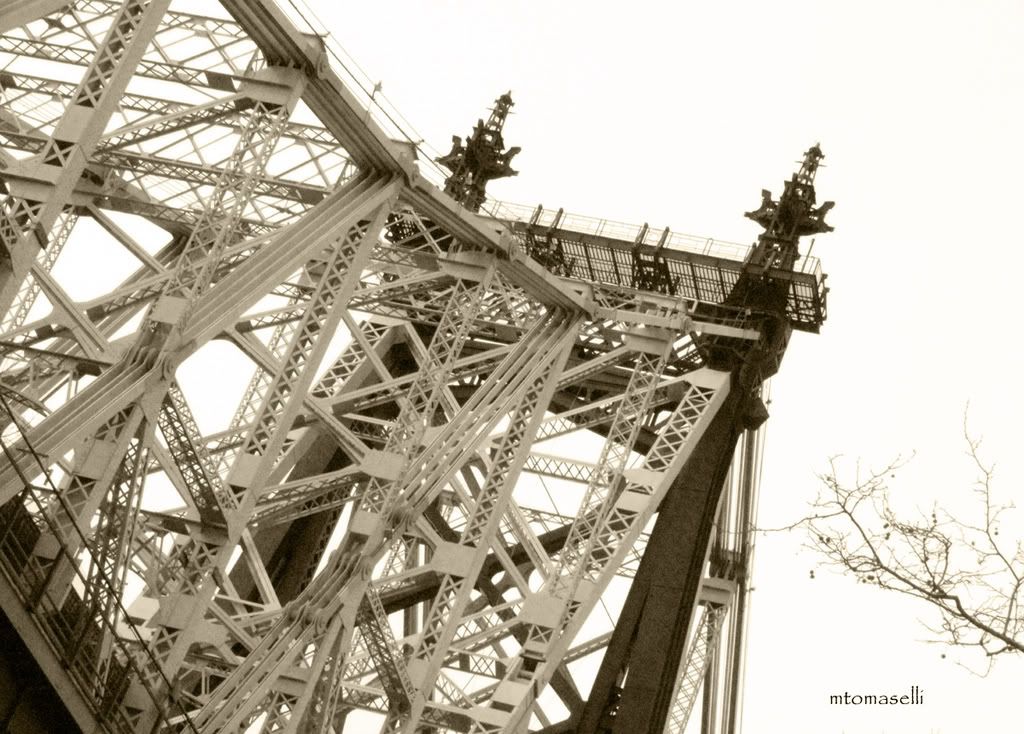 Queensboro Bridge/The 59th St. Bridge
On the way to Socrates Sculpture Park on the last day of a contemporary art exhibition we drove directly under the 59th St. Bridge. I made my husband stop the car, pull up a little so I could get the shots that you see here.
---
Originally christened Blackwell's Island Bridge, and intended to link Manhattan's Harlem Line with the Long Island Railroad, the colossal, two-decked

Queensboro Bridge

is one of the greatest cantilever bridges in the history of American bridge design. A collaboration between the famed bridge engineer Gustav Lindenthal (1850-1935) and architect Henry Hornbostel, the Queensboro's massive,

silver-painted trusses

span the East River between 59th Street in Manhattan and Long Island City in Queens and offer spectacular views of midtown Manhattan, highlighted by the Empire State Building, the Chrysler Building, and the United Nations.

Often referred to as the 59th Street Bridge, the Queensboro's completion preceded that of the Manhattan Bridge by nine months. The bridge has been immortalized by numerous artists and musicians, including Simon & Garfunkel in their hit song, "The 59th Street Bridge Song/Feelin' Groovy."

The Queensboro Bridge is undergoing a major rehabilitation.
Annual average daily traffic is 192,000 vehicles.












"The structure of the bridge itself is an intricate mass of interlacing steelwork, seemingly incapable of architectural beauty because of the strict requirement imposed by the structural conditions in the design of compression and tension members. Yet, as we look upon the bridge from varying points of view, there is a charm, a certain gracefulness in the repetition of symmetrical parts. Wrought entirely of structural steel, at many points small adornments add appreciably to the delicacy of the structure." -

Architecture and Builder

(1909)
theteach