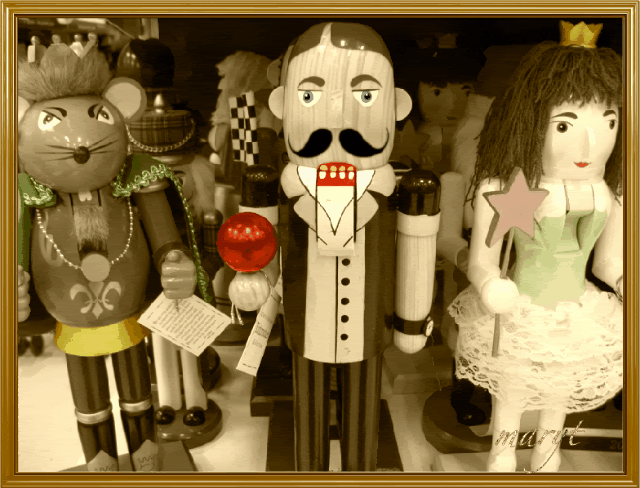 Hi everybody! Welcome to
Sepia Scenes
for this week!
I'm sure you recognize these items I found on the shelf in Target. They are nutcrackers! They may not look like the typical nutcracker, the one in the
Nutcracker Suite
, but these are from that ballet by
Tchaikovsky
.
You have the
Mouse King
on the left and a
Sugar-Plum fairy
on the right. The fella in the middle is, well, I don't know. He's not
the
Nutcracker. And he's not Drosselmeyer, who is the toy maker. He must be a minor character in the stage presentation.
How I made the picture above: first I changed the color photo to sepia. Then I colorized the photo by using layers and channels in Adobe Photoshop.
Here's some
interesting trivia
about nutcrackers:
Nutcrackers were especially popular with Germans who coined the phrase, "Gott gibt die Nü sse aber knaker mü ss man sie selbst (God gives the nuts but we have to crack them ourselves)". This story was intended to teach children that life was hard but rewarding. This little verse made it a favorite toy, possibly because it enabled children to reach one of life's rewards more easily.

According to German folklore, they were given as keepsakes to bring good luck to your family and protect your home. The legend says that they represents power and strength and serves like a trusty watch dog guarding your family from evil spirits and danger. A fierce protector, they bare their teeth to the evil spirits and serves as the traditional messenger of good luck and goodwill.
Don't forget to sign Mr. Linky
(hopefully we'll have no trouble!) and leave a comment.
And visit your fellow participants. They love to have you!

maryt/theteach